Hello everyone, and welcome to Invezza's blog.
Today we are talking about CRM and ERP platforms.
Both types of software increase profits but do it in different ways.
Wondering which option is more beneficial? Read this article till the end to find out what your business really needs ;ERP or CRM platform.
On our blog, we share thoughts on recent developments in the tech industry. Follow us not to miss a new article.
So let's get started:
What is enterprise resource planning (ERP) software?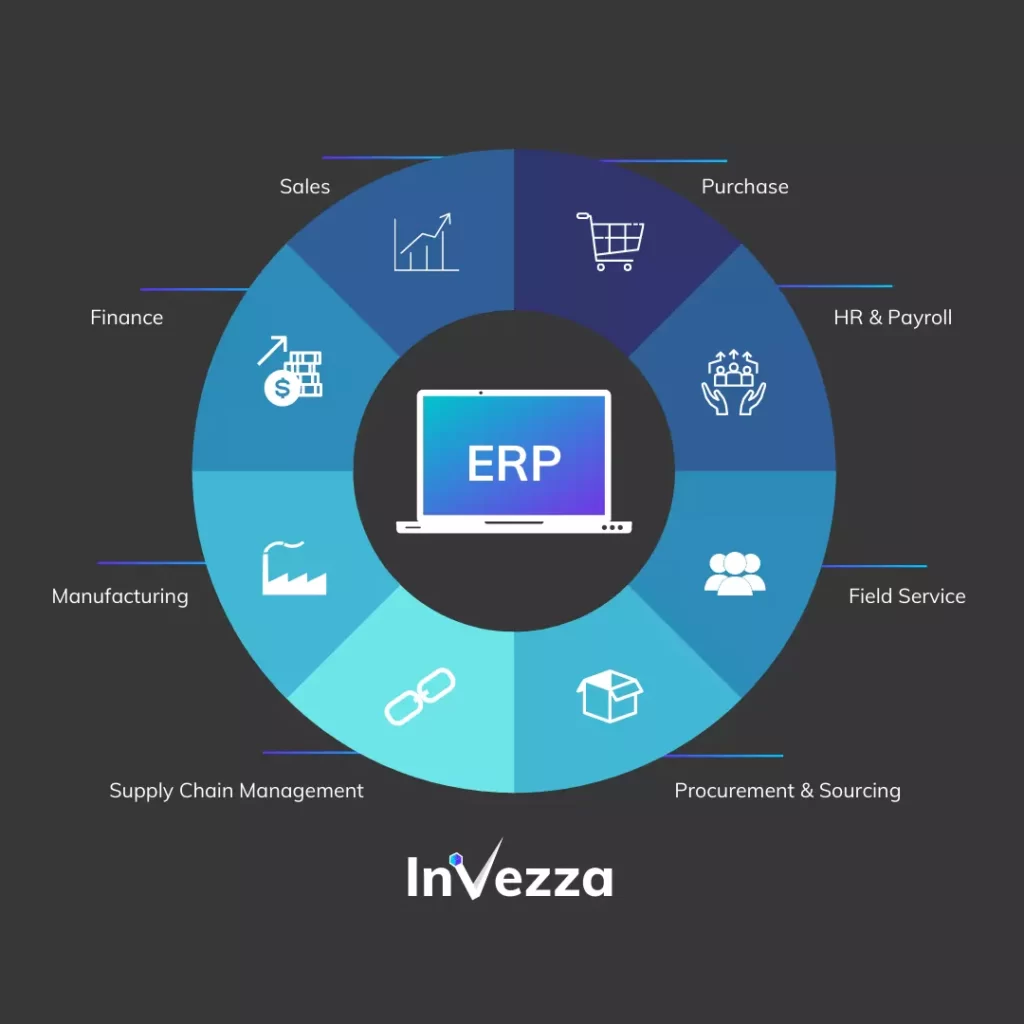 It is a platform that simplifies workflows for large organizations that want to limit complexity. Read further to reveal how this software reduces the time spent on routine processes and also what limitations they have.
So what are the benefits?
Businesses implement an ERP system to enhance business performance.
Among the things that ERP tools are capable of:
Tracking financial and accounting data
Monitoring employee timesheets and life cycle
Storing knowledge base for products and services
Managing transparent supply chains
Simplifying business statistics to aid in decision making
Take into account, though, that ERP systems have limitations.
First, ERP software can struggle to be user friendly and flexible.
We think the cost is also a limitation as it can be viewed as a luxury by small or mid-sized companies. Also, ERP software only focuses on backend parts of the business. In terms of customer-facing operations, ERP software is not something that is widely used.
Among the examples of popular ERP platforms, we can mention Sap business one, oracle Netsuite and Microsoft dynamics 365.
Let's move on to see
What customer relationship management software is?
CRM platform focuses on customers. It lets you track and customize the customer journey from start to finish. CRM software provides you with the potential to reach customers, learn about them and tailor your communications to convert them.
74% of companies say that a CRM system improves their customer relationships, while 65% also note increased sales quota.
CRM software is capable of many features such as:
Tracking profiles of existing customers and potential leads
Following prospects as they go through a sales pipeline
Storing references to marketing efforts
Analyzing sales data to allow the teams to optimize strategy
Helping sales and marketing teams with prioritizing leads
What is the scope of a CRM system?
For large teams, The CRM platform can manage most of the team's interactions on a daily basis. On the other hand, smaller teams may look towards CRM software to simply provide high-level analytics and data storage.
What are the limitations of CRM software?
It is limited in scope because the software only affects customer-facing departments.
CRM platform is also limited by your business ability to collect leads. Also, some teams have trouble fitting their usual activities in a standardized CRM process; for example, sending a customer a quick email is not really something that needs to be tracked or would you track it anyway to make sure your CRM optimizes this process too? Share your thoughts in the comments.
Among the most recognizable CRM examples, we define Salesforce, Hubspot and insightly.
Now it's time to discover if you should use ERP or CRM software.
Actually, it should really come down to your goals and current challenges
Among the questions, you may want to ask yourself when making the decision are
How large is my business and how much do I expect it to grow?
Am I more concerned with growing my business or optimizing my business?
Is there a large number of competitors in my businesses industry?
How much inter-departmental collaboration exists in my business?
Am I more interested in providing products or services?
Let us share our experience and help you figure out what your company needs.
So which businesses need CRM software?
The truth is any business looking to improve growth retention, and customer satisfaction would ideally be utilizing CRM tools to accomplish those goals.
According to nucleus research, on average, CRM pays back $8.71 for every dollar spent.
That's an impressive ROI.
Which businesses need an ERP system?
Actually, businesses that have already reached a strong level of growth may lean towards choosing an ERP system to help them optimize their organization.
When would you want both ERP and CRM?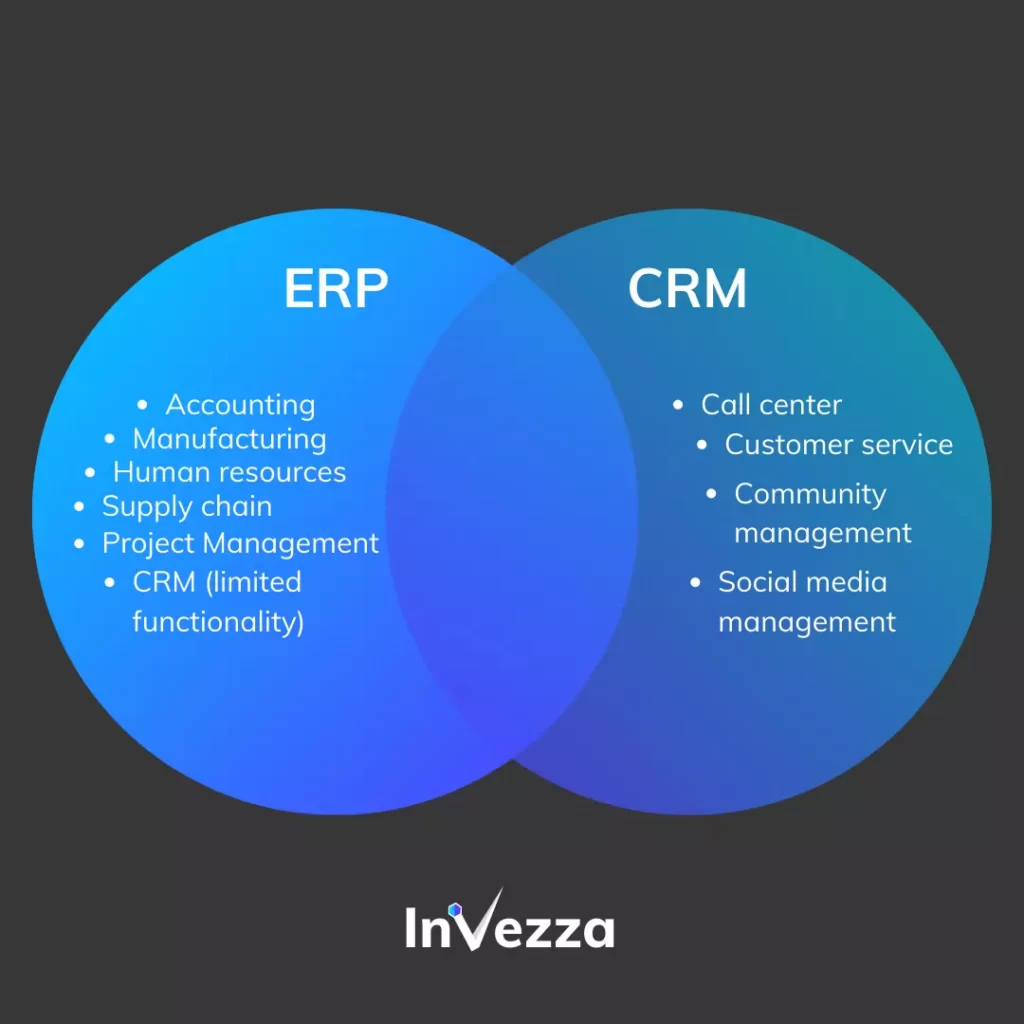 It's not necessary to limit yourself to one of these options. You might need to improve both growth and optimization, so feel free to integrate both ERP and CRM.
The data available on both tools can benefit the work done in the other. However, our devs note that some software will never be compatible, and the engineering work to implement the integration can be costly.
To sum up, before making a choice, it's necessary to consider every detail in reaching goals.
Thank you for reading this article till the end.