One of the many things startups and small businesses are confused about while discussing their web development requirements is the need for a Content Management System (CMS) and what it can do. To put it in short, a CMS gives better control over the web content in the hands of business owners, and one does not need to be a techie or web smart to be able to manage a CMS-based website.
While there are many benefits, here is our pick of 15 advantages of using a Content Management System ( CMS ):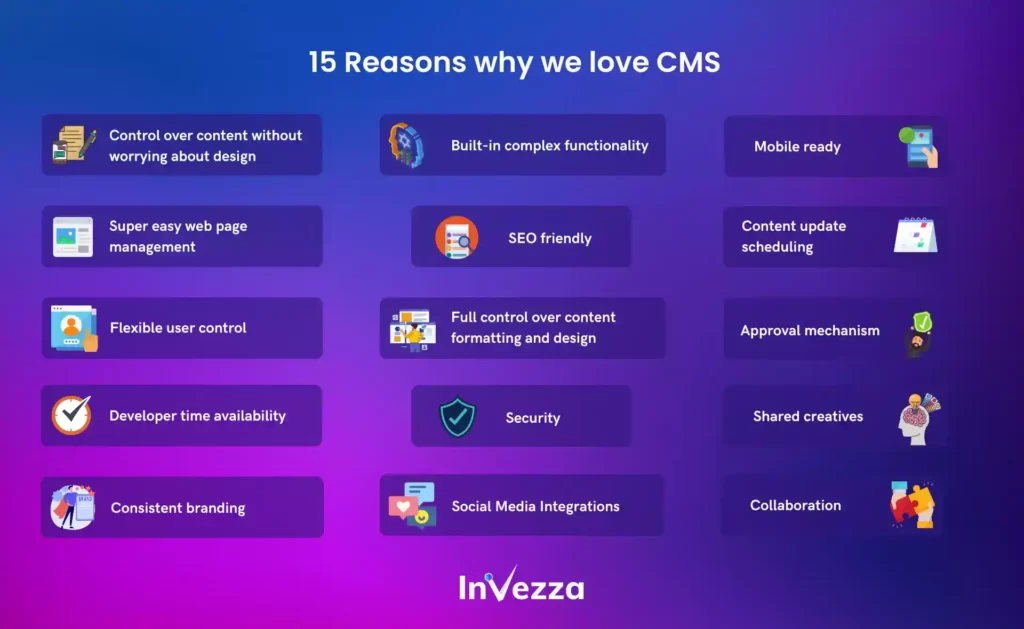 1). Control over content without worrying about design
Before the era of CMS, web content managers would always worry about disturbing the web design while updating the content – not anymore. With CMS, the web content is separated from design and one can easily update it without disturbing the design.
2). Super easy web page management
In today's time when even the Internet search engines give priority to constantly updated content, it has become very important for websites to continuously update the website with latest information. With CMS, adding new pages and updating the existing ones is very easy – without the need of any programming knowledge.
3). Mobile ready
Having a mobile-friendly website is mandatory and CMS takes care of this aspect. The CMS-based site automatically fits to various mobile devices and tablets with varying screen sizes and resolutions.
4). Content update scheduling
You are going on a vacation but want your site to be updated even in your absence? No problem, CMS will allow you to schedule the page updates – You can be on vacation, but the business can run as usual!
5). Flexible user control
As a site admin, you can give different levels of access to different users and make sure that only relevant content is shown to relevant audience – all this without worrying about complex programming for user-management.
6). Approval mechanism
CMS has built-in approval module which enables you design a workflow wherein you can ensure that content is approved before going live.
7). Shared creatives
Keeping a single repository of shared modules, images, videos or audio files is very easy with a CMS. All the users can access the central repository which helps in maintaining consistent branding.
8). Developer time availability
Since most of the day-to-day web content management activity can be managed without the need of developers, you can utilize the developers' time for designing and developing specific advanced functionality which can improve your business efficacy.
10). Consistent branding
CMS separates design from content because of which, the design templates can be very easily used across various microsites and knowledge units while maintaining a consistent brand and navigation and that too, at a fraction of development time.
11). Collaboration
With a very solid user management module which is built-in in the CMS, collaboration within team members becomes very easy. The website admin can define roles and responsibilities for every team member. This can ensure that there is a seamless collaboration within team members and only the updated and approved content goes on the website.
12). SEO friendly
CMS gives the complete control over content in the hands of business owners. With this, the content managers can ensure that the site is always updated and can make quick adjustments in the content to ensure that the site always has top ranking in search engines.
13). Security
Most of the Content Management Systems store website information in a database system. Access control mechanisms restrict access to the content. With the use of right CMS and modules and with the help of right access permissions, the website information can be better protected from many common web site attacks.
14). Built-in complex functionality
You don't need to rack your brains to define workflows and use cases for commonly used but complex functionalities. Most of the CMSs offer wide range of such sophisticated options – these could include social media plugins, eCommerce integration, cross browser compatibility, mobile-readiness etc.
15). Full control over content formatting and design
Most of the CMS systems provide WYSIWYG (What You See Is What You Get) editors which give full over control over content and layout in the hands of non-tech-savvy people. Right from content editing (bold, italics, font/ color changes) to design changes (image, video, audio integration and placement) – everything can be done by non-developers – right from an easy-to-use editor.
16). Social Media Integrations
Social Media integrations is very easy & quick with Content Management Systems. This is especially useful for relaying content to social media platforms including the popular ones like Facebook, Twitter etc.
17). Save Money
CMS undoubtedly can save you lot of money because you don't need to pay anyone for making continuous changes to your website. In a long run, CMS is going to be definitely more cost effective over traditional alternatives.
Need assistance in developing your Content Management System, connect with our CMS experts for a free consultation!